A month at home for the holidays gave me time to relax in 75 degree weather, have some relatively no-stress shopping at reliable stores, feast at favorite local restaurants, and indulge in my mother's cooking. When planning a get together for the weekend, and trying to choose a restaurant, a friend mentioned a burger spot but figured I wouldn't want that since I'd just gotten back from Texas.
Texas does have awesome steaks and a few spots to get a good burger, but no way am I spending my limited time with mere tasty slabs of meat. There was TexMex to be had! Lime marinated fajitas from Lupe Tortilla, ridiculously perfect Panchos (loaded nachos) from Chuy's and perfectly grilled chicken stuffed into warm enchilada's from Skeeter's had my attention, along with oddball local favorites, like the ridiculously delicious cheese-coated Sausage Bomber on garlic bread from J. Christopher's.
Excuse me while I mop up the drool.
These foods are just flavor explosions. Everything comes together with texture and spice making you feel extremely satisfied. With such tasty memories, I felt the need to spice up the week's menu.
Dinners
Image Credit: Pioneer Woman Cooks
Pioneer Woman's Spicy Lemon Garlic Shrimp

New! I happened to catch an episode of Ree Drummond's show while in the states. The concept was an over-the-top party recalling the 80's and a high school reunion where everyone got a goodie bag with what seemed to be $20 worth of gag make up, hairspray and baubles. Nice for a show, but unless you've got sponsor's, seems like wasteful consumerism. (I think Toronto is finally getting to me!) For the meal though, she made a screamingly simple shrimp dish that looks amazing. I mean, really. Who can turn away garlic butter shrimp? No one in my household. Her recipe calls for deveined, but shells-on shrimp. I'm not sure I can find that up here, so I found deveined, peeled and will be mindful about the cooking time.

Verdict: As promised, very easy to make. No need to defrost, the butter was wonderful and great with a loaf of Italian bread and freshly steamed broccoli. Fast, low-fuss, definitely a keeper.

posted at The Spice House: Puerco Pibil

New, sort of! Over the holiday's, my brother made this for the family. He brought the annato seeds and a spice grinder which I think he has dedicated to the task. He and his wife stumbled upon this particular dish a while back and love it so much, it's practically a weekly appearance on their menu. Despite the appearance of habanero peppers, there was practically no heat in this dish. He found the required annato seeds at one of the many Mexican markets down in Texas, but I was skeptical I could be so lucky up here. As diverse as Toronto is, there just doesn't seem to be a huge Latin community. Luckily, I found the spice in two places! The Spice House in Kensington Market had both preground and whole seed, and La Tortilleria had whole seed (for half the price!). Since my husband also fell in love with this dish, this recipe finally gives me reason to invest in a small spice grinder of my own. The flavors from the freshly ground spices and the slow roasting of the meat really makes this an awesome, easy to make meal.

Notes: Since we had already had this dish before, we knew it would be wonderful. And it was! I didn't have banana leaves, but I think the leaves, or an oven browning bag would help keep the moisture in. We served ours with warmed white corn tortillas and sour cream, but they were just begging for a squirt of juice from a fresh lime wedge. Finally, while I would have liked to have stayed true to the recipe, I simply couldn't find any habanero peppers and went with a single jalapeno. It worked just fine, though I think the flavor was just a teensy bit off.

Food Wishes's Sopa de Ajo

Image Credit: Food Wishes


New! Depending on how much food the Puerco Pibil and Red Beans really makes, I may or may not make this dish. Packed with flavor but oh so simple, Sopa de Ajo is a nice addition to this spicy menu. It's really nothing more than garlic, paprika, bread, and broth topped with a poached egg, but often times, a few well-chosen ingredients make the biggest impression. This recipe is a perfect excuse to use up the leftover bread from the Spicy Garlic Shrimp, as well as use up the remaining parsley from the same dish. Chef John, as always, makes the process look really simple, so if we need an extra meal, this will be the go-to. Caution: Video has explicit food porn when he breaks the yolk!
Sweet Tooth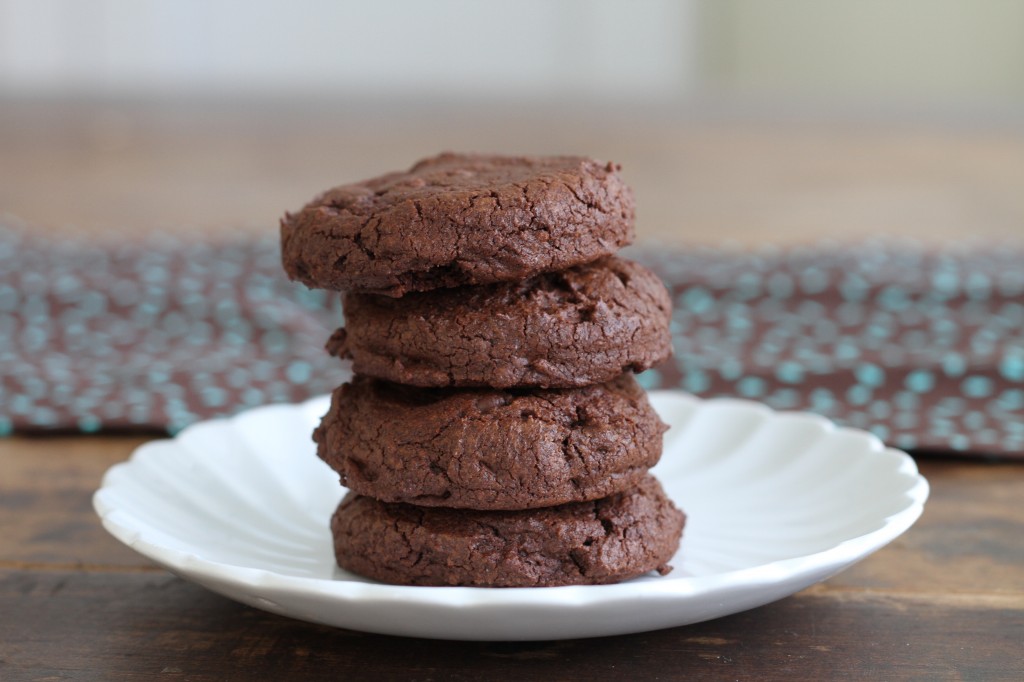 Image Credit: Brittany's Pantry
Brittany's Pantry's Triple Chocolate Mexican Cookies

New! Whenever I make hot cocoa from scratch, I take a tip from Alton Brown and add a tiny dash of cayenne to the brew. But I don't stop there. Growing up in Texas, I have a quiet love for cinnamon sweets. Cinnamon buñuelos, cinnamon ice cream drizzled with hot fudge, cinnamon churros, cinnamon coffee, cinnamon sopapillas drizzled with honey or decadent dulce de leche... At some point, I decided I needed cinnamon ice cream in my dark chocolate ice cream, and one of my favorite flavors of all time was born. Like my homemade cocoa with cayenne, cinnamon and a few secret spices, these cookies seem to promise a spicy-sweet flavor explosion. Three kinds of chocolate, a chewy texture, and a spice party in your mouth with not only cinnamon and cayenne, but black pepper and chili powder! I think these will be a super finish to the Puerco Pibil meal.

Verdict: O.M.G. These are even better than I had hoped. A few cooking notes. Melt your chocolate over a double boiler for superior smoothness. I didn't use chili powder because I didn't have any. I could probably stand to up the other spices a bit, especially the cinnamon. Once dry ingredients go in, do not overmix! I used semi-sweet chocolate chunks instead of the chips because it was all I could find. (Milk chocolate would ruin the profile of this.) Bake for 13 minutes, then leave on the cookie sheet for 5-7 while they firm up for one of the most perfect cookie textures ever. Total win.
Offline
Treebeards Red Beans and Rice.

Image Credit: Treebeards

This Houston restaurant has been serving up authentic Southern cuisine in Houston for over 30 years, but their signature Red Beans and Rice has obtained local fame. The recipe isn't posted online, presumably because they sell a packet of perfect spice blend and it'd be a bit silly to give that away for free. That said, the blend is already perfect, and even if I already had all the spices, this is a place I'm happy to support! Santa left us (the husband and me) a red beans gift basket and it made it back to Toronto, complete with Louisiana style hot sauce. Like the Puerco Pibil, this makes a ton of food, and leftovers just get better with time. As a Texan, I eat it in a heretical style, topped with cheddar cheese and green onions, but oh man, is it ever good!
A visit to The Rudeboy over the weekend. Remember my friend who thought I had eaten tons of burgers in Texas? To be honest, yes, you can get a good burger at a few places down there, but there seems to be more of a gourmet-burger vibe going on in Toronto. A few of us ended up going to The Rudeboy before gaming night, after turning down sushi (too cold, even with lovely roasted tea) and Indian (burnout). Husband got The Rudeboy Burger and loved it. It was pretty awesome. I chose The Contender and had mixed feelings. The meat was cooked well, maybe a skinch over perfect, but the tongue pastrami overwhelmed the other flavors on the burger. Before I could finish the meal (because it came as a double only), the unimpressive Iceberg lettuce had wilted, leaving me to deconstruct my sandwich as I ate, to finally get the impression of "burger". That said, I would totally return and just order a different burger next time. Fries and onion rings were outstanding, service was super friendly, atmosphere really fun without being obnoxious. I definitely recommend this place.